Already that time of the week! It's Sunday afternoon, we have yet again missed another storm, and so we are praying and trusting that God knows we need the rain, and His plan is best! This is an accumulation over the last two weeks.....
36. afternoon naps
37. kittens
38. shucking corn
39. cutting corn
40. hugs
41. kisses
42. little girls' bedtime prayers
43. ring around the tub after kids' baths
44. girls playing with kittens
45. dirty boy
46. old recliner
47. pancake syrupy baby
48. warm slice of homemade bread with butter
49. homemade strawberry jam
50. damp curls at the nape of the neck
51. desert turning green during monsoon
52. storm clouds growing
53. kitten curled up in cowboy boot, napping
54. naps in the car
55. freckles across the bridge of her nose
56. cotton candy clouds
57. lightning show
58. barley loaded on hopper
59. thunder
60. baby boy pushing tractors on his knees
61. "vroom" "vroom" noises by baby boy
62. the promise of life eternal
63. working as a time
64. clean floors
65. dishwasher
66. clothesline
67. fresh dried clothes
68. freeze pops
69. sharing a freeze pop with baby
70. a quiet morning reading the Word
71. children sleeping in
72. You are in the details!
73. mountains
74. cloud cover during an afternoon run
75. cool breezes during run
76.ice cold clean water
77. a full freezer to organize
78. blueberries
79. raspberries
80. fresh cut grass
81. sweet smelling rose
82. dirty kids
83. nursing baby boy for the last time
84. flying a kite
85. kids playing outside, rather then sitting in front of the TV
86. last days of summer
87. sprinkler watering the yard
88. cut rose on my kitchen windowsill
89. sweet scent of roses
90. newborn baby
91. baby snuggled up on my chest
92. baby showers
93. soft, curly, baby hair
94. smooth perfect baby skin
95. brisk mornings
96. hot coffee
97. good fellowship
98. sweet "good nights"
99. cheerful boy
100. chocolate chip cookie dough
We have dealt with the stomach flu this past week, and it was challenging to find many gifts those days, but one was definitely knowing this too shall pass! I am not as diligent as I should be in writing them down, and then I forget. But what a great practice. It really can make a difference. Take the time, write down the gifts, they are too numerous to count!
w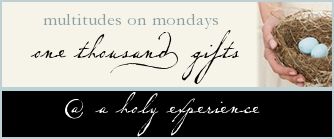 ww.